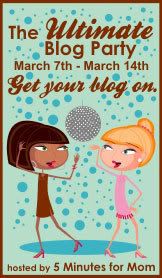 It's time for another blog party! Welcome to the fun!
I've been blogging here for years, and basically use this spot as my place for random ramblings about life as a mom to six kids, entrepreneur, books, movies, and whatever else pops into my head. :)

I'm going to give one lucky winner a $20 gift certificate to one of my businesses (see the sidebar for my other blogs and business sites). (The winner will get to choose which one.) All you have to do to to enter is just leave a comment here telling me which business you would like to use your gift certificate for!

I am also hosting a great sale on my two healthy eating books right now, with 50% of the proceeds going to Zoe Children's Homes, which is an organization that rescues children from the evils of human trafficking. You can read more about this here.

Enjoy the party!!